Future Educators Association
Sponsor:
Mr. Yard
President:
Elizabeth Fernandes
Vice President:
[[User: |Chellsea Beaulieu ]],
Secretary:
[[User: |Fariba Naseer ]]
Treasurer:
Shasta Parker

Historian: Inez Portillo

Purpose:

FEA

is an organization that helps students discover what teaching is all about!
Meeting Schedule:
Most of what we do is on class time, but we also do somethings outside of class!
Current Activities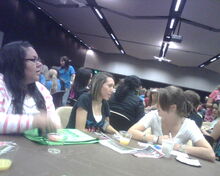 Attended Officers' Training at ASU
Attended Fall Regional Conference on October 25th at ASU
History
Independence High School educations professions class became an FEA (Future Educators of Arizona) chapter2008-2009 school year. We entered in a couple of different competitions including a resume competition and a t-shirt design competition where we won third place for our design. Last year 2010 we won third place in the blogging compitition and won bronze for school in participation. This year we are entering in 12 different compititions and our group is increasing. We hope to get our school to stand out more.
We are very proud of how far we have come and are planning on continuing further this year!
Events
3/3 -3/4 - State Conference
GO FEA!
Ad blocker interference detected!
Wikia is a free-to-use site that makes money from advertising. We have a modified experience for viewers using ad blockers

Wikia is not accessible if you've made further modifications. Remove the custom ad blocker rule(s) and the page will load as expected.